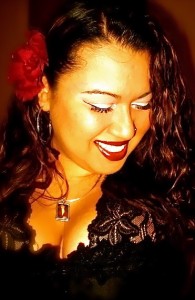 Sirena began singing with her father who taught her Chilean Folklore and Andean Music at a very young age, she later taught herself to use programs such as ProTools and Reason to produce her own blend of beats and rhythms. As a producer her music has the influences of electronica, soul and latin rhythms. Her voice and style have been compared to that of Sade, La India, and Carol C. of Si*Se. Singing both in English and Spanish, her songs are drenched with rhythmic beauty, and heartfelt emotion.
Aside from being a talented musician, Sirena is also a dancer and painter. She has studied Middle Eastern Dance, Poi Dance, Veil Poi (Voi), and recently she has picked up fire fans. She has taken part in dance showcases in NJ, took part in Dance Parade 2010 & 2011 in NYC, and recently opened up for a Dead Prez concert at Parlay Studios in Jersey City.
She has performed in venues such as:
Joe's Pub, NY
S.O.B's, NY
Southpaw, NY
The Cutting Room, NY
Water Taxi Beach, NY
South Street Seaport, NY
Nuyorican Poets Cafe, NY
Opus 22, NY
AKA Lounge, FL
Lowes Jersey Theater, NJ
Mexicali Blues Cafe, NJ
and many more venues in NY and NJ
This talented woman finds herself married to a true entrepreneur, Chelo Mercado. Though originally they grew up in Dover NJ, Jersey City is where they now call home and work closely with the community to spread well being through programs and events.
Chelo is the founder of Grassroots Community Space in Jersey City. Grassroots is home to some great local programs such as Mommy & Me Ballet, Zumba, Middle Eastern Dance, Acting Classes, Swing Dancing & Classes, and so much more! You can view Grassroots Calendar here.
Sirena & Chelo are also founders of Sirelo Entertainment an entertainment company that has curated some of the hottest events in NJ & NY. Aside from curating entertainment, Sirena fuses Middle Eastern Dance and Fire Fans, and Chelo has been spinning or dancing with POI for over 10 years. In the last 2 years he has added the element of Fire. This amazing duo have slowly been building a reputation for no nonsense entertainment, reliability, and heartfelt performances.
Sirena is also an amazing painter. She had her very first show in September 2011 where she unveiled her collection of 12 pieces named "Neptune Rising", a collection inspired by Sirena's favorite subject… the ocean.
This versatile woman has displayed amazing talent and dedication to everything she puts her mind to. Her ability to reinvent herself and still remain very true to herself is most important to her, and it shows.